Key Information about ETM
ETM is a low power, rad-hard, mixed signal analog digital data acquisition device. More specifically, the ETM autonomously performs the following tasks as soon as power is applied:
Sequential scanning and sampling of discrete analogue & digital inputs.
Conversion of the analogue inputs to digital values.
Format of the sampled data into Space Packets.
Transmission of the Space Packets via standardized interfaces (CAN or PacketWire interface).
ETM ASIC Key Features
ETM key features include:
12 bit ADC converter
Up to 32 differential analog inputs (4, 8, 16 or 32 selectable)
16 differential digital inputs
A built-in technology independent Rad-Hard Bandgap Voltage reference with a temperature coefficient of < 3μV/degC @ 1Mrad
Various temperature sensors PRTs, NTCs, temperature transducers (AD590) supported
Instrumentation amplifier for small differential signal measurements
Various sampling frequencies supported (20mH-4KHz)
CAN Protocol interface
PacketWire interface
Single power supply 3.3V (Internal voltage regulator)
Low power <15mW (including CAN)
Autonomous operation on power up
Wide Temperature Operating range (-55 to 125 deg C)
Rad-hard up to 1 Mrad
SEL immune to LET > 67 MeV/mg/cm2
SEFI immune to LET > 67 MeV/mg/cm2
SEU free up to an LET threshold of 40 MeV/mg/cm2
Packaged in CQFP256
ETM ASIC Applications
Essential telemetry without SW support from onboard computers
Autonomous AD conversion & data collection
Temperature measurements in 32 channels
Remote Terminal Unit in space data acquisition systems
Housekeeping in space instrumentation
In the following Figure a typical application scenario of several ETM devices in a spacecraft is shown. ETM is used as an essential telemetry acquisition device in Stand alone and Cascaded modes. In addition it is also used as an RTU device.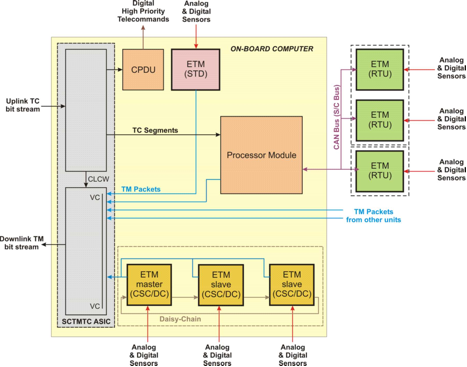 Potential non space markets.
Potential non-space markets include use of the ETM-ASIC in High Rel, Military, Industrial applications and Medical applications.
ETM-ASIC Data Sheet
ETM-ASIC Brochure